Historically, Chinese folk dances were ritual performances based around superstitious beliefs. Chinese hunter-gatherers believed performing a ritual dance would persuade the gods to allow a good harvest or a good hunt. Today, Chinese folk dances are a highly elaborate and sophisticated means of ethnic expression used to celebrate official ceremonies. Common characteristics of Chinese folk dancing include dancing with stage props, singing while dancing, intricate plots and beautiful imagery.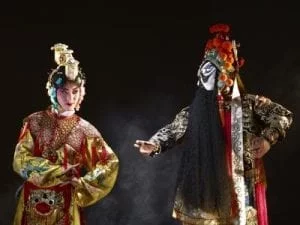 Stage Props
Chinese folk dancing commonly incorporates handkerchiefs, bells, drums, stilts, fans, swords, ribbons and masks to accent the dance movements. For instance, the Dragon Dance uses acrobatic dancers, leaping in patterns that imitate the swooping movements of a dragon. The dancers hold poles attached to a mock version of the animal. Raising, lowering, and swinging the poles animates the dragon.
Singing While Dancing
Chinese folk dancing typically incorporates singing while dancing. Each ethnic minority adds its own local flavor and charm to the performance style of dance. The Yangko, Caicha, Mangshi and Xuanzi dances all incorporate singing into the folk dance routines.
Intricate Plots
Many Chinese folk dances are based on stories. Ethnic minority folk dances symbolize aspects of each of minority's culture, including the group's religious and historical background. Many ethnic minority folk dances share common plot themes such as communal bond, love, rivalry, forgiveness and jealously. Dances include elements of their different environments, national characteristics, beliefs, customs, cultures and lifestyles.
Beautiful Imagery
Chinese folk dances use beautiful imagery to emphasize the character of the various nationalities within China. Dancers often move in spirals and circles because the Chinese believe circles symbolize harmony. Complex hand gestures and hand-eye coordination are also used to symbolize important elements of Chinese art: concentration, flow of energy, strength, discipline and spirit. Performances use colorful stage costumes, dramatic background music and superior dancing talent.